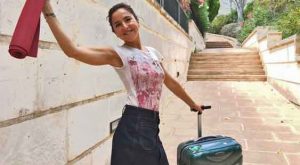 The time has come for me to take a whole entire month to disconnect from the computer and from work because even though I am a crazy passionate of what I do, I also need to take a pause. Before the see-you-laters I would be very grateful if you could do a little thing for me. Please, please…  
I always love to know how you are doing, what sparks your interest and what #1 problem is, in case that you have one. Many times I have written the Drops of Light keeping in mind that subject that messes up your life, that unsettles you or irritates you like nothing else. These are some of the posts that were written as an answer to your questions, dear readers:
Do you have a hard time managing time? Take a pause
Can´t sleep? The secret of restful sleep
Your mind is a merry-go-round moving at high speed? 21-days mental detox
Do you feel heavy? Perpetual renewal
Lovesickness? The secret behind February´s heart
In search of a deeper purpose? 4 soul goals
Others? Use the search sign in the upper right corner.
I am creating the calendar of topics that will fill the Drops of Light (and your email box) as of September 1st. It would be wonderful if you could share your suggestions about any specific theme that you would like to see highlighted here. Ask, tell me, write to me!  It doesn´t have to be an specific problem and that is great, you might be curious about learning new things about yoga, ayurveda or a conscious, healthy lifestyle. What are you interested in?  
Now it is time to say "hasta la vista", you will be able to read my communications again in September. With immense gratitude to all of you for being part of zairalealyoga through an amazing year. Missing you already!
Tons of shantihugs and golden Light showers for everyone
Namaste