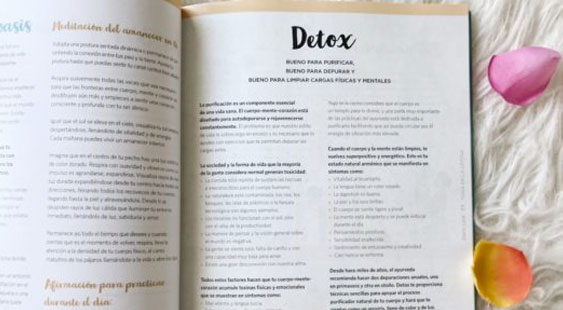 Apparently, the average weight that people gain over the holidays is 2.5 kilos (around 5 pounds)! Breathe, there is a way to get to January free from the extra love handles: a body-mind cleanse between holiday parties following the Express Detox that I recommend in Yoga en la cocina. In case that you don´t have the book, I tell you about it below
During three days, stay focused on resting as much as you can, being quiet, meditating, breathing and spending time in nature. This "Express Detox" is based on the classical ayurvedic cleanses and, if you do it periodically, it can really support you.
You will eat only kitchari with vegetables. It is a stew-like combination of beans & rice, it will be your sole food, for breakfast, lunch and dinner.
You will be drinking lots of water, ginger tea and green juices.
Opcional: you can take a mild, natural laxative as the ayurvedic triphala.
The previous day
Get your shopping list and go to the market.
Clear your kitchen from: stimulants (coffee, alcohol), sugars, processed, packaged or artificial foods.
As a general rule, if a food didn´t exist one hundred years ago, don´t eat it.
Tell your friends and family that you are going to dedicate three days to yourselves and that you will turn on your "airplane mode" (disconnect the cellphone, computer and other screens).
At night, prepare a big pot of kitchari. It will be your food for Friday.
Day 1
Get up with the Sun and do your morning routine.
Prepare a big thermos full of ginger tea so yo can take it to work and drink it throughout the day.
Prepare your lunch box with kitchari and steamed veggies.
If you are hungry in the middle of the morning or afternoon, drink a green juice, there is a delicious recipe in the book.
When you come back from work, follow the routine of conscious movement, finishing it with a deep relaxation and take a long bath with epsom salts.
Don´t watch tv and avoid the newspaper.
Before going to bed, drink a soothing chamomile tea.
Days 2 and 3
Morning ritual.
Practice a sequence of conscious movement.
Prepare your ginger tea, steamed vegetables and the pot of kitchari for the day. Remember to soak the mung beans the night before.
Practice a sequence of conscious movement.
Spend some time in nature, go for a walk and sit or lie down directly on the surface of the Earth.
Eat lunch.
Dedicate some time to rest.
Nourish your mind with inspirational readings or documentaries.
Write in your diary.
If you can, spend some time in a sauna.
Eat dinner.
Give yourself a restorative self-abhyanga massage, and take a salts bath.
Relaxing tea and bed time.
And keep partying ful of peace and love!!