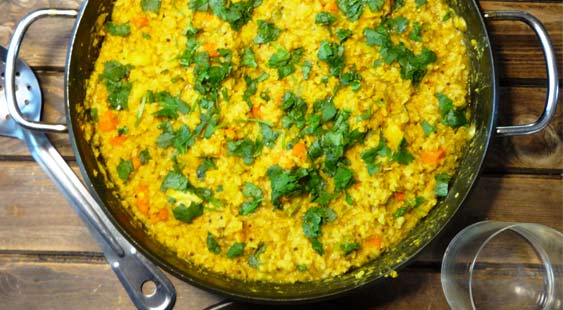 I am in the midst of the strongest phase of my annual detox and in just a few days I will start incorporating foods that I haven´t been eating during 21 days. The first thing that I am going to prepare is my favorite detox recipe. Read it below.

On of the chapters of my book Yoga en la cocina  is focused on the cleansing methods for the body-mind-soul that we call "detox". In its "Among the pots" section you can find my favorite recipe for gentle cleanses or for the stabilization phase that comes after a more aggressive detox: the ayurvedic KITCHARI.
Kitchari is creamy, aromatic and mellow. Delicious at all times of the day and nurturing at all levels. The foundation of this dish are spices and the combination of basmati rice and mung beans. It is said in Ayurveda that grains are a symbol of the Earth while beans are a symbol of the sky, therefore, this dish is like the marriage between Earth and Heaven, feminine and masculine. It is also quite simple to prepare, everyone loves it and, when you make it, the whole house becomes fragrant with the scents of the spices.
Ingredients:
1 Cup mung beans
½ Cup whole grain basmati rice
1 teaspoon cumin seeds
2 Tablespoons or coconut oil
1 Tablespoon grated fresh ginger
2 Tablespoons grated fresh coconut
1 stick of cinnamon bark
1/4 teaspoon turmeric
6 Cups water
½ teaspoon unrefined sea salt
1 y ½ Cups steamed vegetables at serving time
Preparation:
Soak the mung beans for at least 6 hours in clear water. When you are about to start cooking, remove the water.
Wash the rice using a colander until the water is clear.
In a pot, boil the 6 cups of water and when it is boiling add the beans and rice. Cook slowly during 40 minutes.
In a saucepan, heat up the ghee or coconut oil and pan roast the cumin seeds. Add the ginger, coconut, cinnamon, turmeric and bay leaves. When the spices release their fragrance add them to the kitchari that is cooking in the pot.
Prepare the steamed vegetables and when the 40 minutes of cooking come to an end, incorporate them to the pot along with the salt.
It should be creamy and soupy, if you find it necessary, add a little bit more water before incorporating the vegetables to it.
Serve in bowls. Sprinkle fresh cilantro leaves and the "3 seeds" mix that you will find in Yoga en la cocina.
Peace and love among the pots