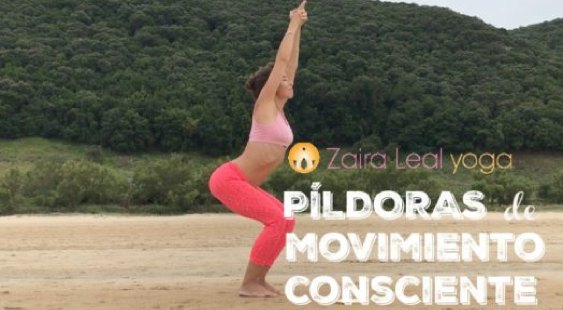 Summer is here, do you feel like doing some yoga on your own, maybe in the middle of Nature? Today I want to share with you the scoop on something that I have created and that you are going to love, I know it. You can take it on vacation, to the office or any other place. It is called Pills for Conscious Movement because it is made of five mini practices with great power to activate your entire body, opening its channels and filling you up with vitality. When I say mini, I mean it: each one of them lasts between 6 and 8 minutes. In very little time, they will get you going. I love tiny things because in today´s life, it is hard to find hours to do whatever you want, but on the other side, several short segments of conscious movement throughout the day can provide you with a lot and you can benefit incredibly from them. Also, it is said that the most valuable gifts come in small packages, right?
The days that you feel like doing a longer routine, you can practice all of them in order, make sure that if that is the case, your treat yourself to a longer laying down relaxation.
Some of the gifts that the Pills will bring to your life are:
Improvement of balance, increase in elasticity and strengthening of all bodily tissues.
Your body´s movements with become more integrated and fluid.
The breath will wake up and will increase its capacity.
Your energetic channels will open up and you will ground your presence here and now.
Prevention of injuries caused by holding an unhealthy posture throughout the day.
On top of all this, one of its most beautiful characteristics is that they were recorded in nature, in one of my earthy paradises. On a Summer afternoon last year, my brother and I took the camera and went there chatting and enjoying life like two carefree children. That energy is still infused in all of them, there is something special about them and you are going to notice it as soon as you hit the "on" button and start moving with me.
Don´t wait any longer, click on the link and start enjoying the Pills for Conscious Movement. I will love to know how you are doing, Will you send me a message?
May we move free and happy