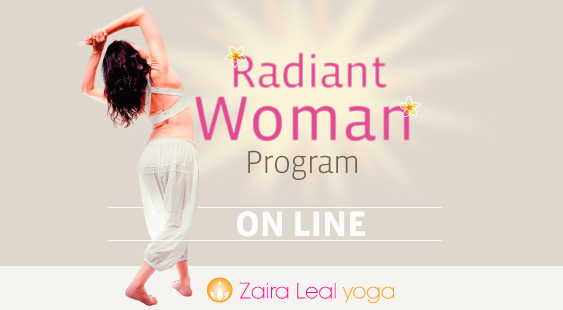 There are dreams that come true out of the blue, the universe playing instant karma, others, come into manifestation little by little, with a combination of patience, perseverance and lots of love. Radiant Woman online belongs to the second kind and full of joy I can introduce it to you today.  
Radiant Woman online is the definite program for the awakening of your true essence, the power to heal and shift every part of your live. It is practical and you will learn a lot about woman´s self care, nutrition for the different stages of your life, living in harmony with the Moon, how to create sacred partnership or how to awaken the transformative power of the group.
Working globally is part of my vital code and, given the fact that traveling is not as easy for me at the moment, internet allows me to reach many homes and hearts virtually. It is wonderful! When I first envisioned Radiant Woman online, I imagined little beams of feminine light that could grow and flourish in the homes of many women, creating a network of love, peace and celebration.
What is it?
Radiant Woman online is an evolution and transformation program for women that can be coursed from your own living environment. It is structured in five lessons that you will study over the course of five weeks. Each Friday you will receive an email announcing that the materials for the week are ready and you will be able to immerse yourself in the fascinating feminine universe that the lessons provide.
Each one of the lessons comes with and introductory 10 min video, a pdf booklet that is 30 pages long more or less, and in some cases you will be able to access additional videos that explain special practices. The booklets are packed with theory, spaces for reflection, practical exercises, a guide for your sadhana, or spiritual practice, and even a mini test so we can make sure that you integrate the contents at a deeper level before you continue along with the following lesson.
Also, we will be connected through an exclusive facebook group where you will be able to feel the support of all the participants of the radiant women sacred circle. And, with the intention of making the course even "more" real, week after week we will communicate with you personally from zairalealyoga so we can support you with great love.
For whom?
It is amazing for all women. Many have wanted to participate in the face-to-face Radiant Woman seminars, but you haven´t been able to do it because the dates, the place or whatever it was didn´t work with your schedule. Well, Radiant Woman online is perfect for you! It is also recommended for all women that have already participated in Radiant Woman because the online version offers even greater content and the five week long experience allows you flourish even with greater splendor.
When?
The first week of May marks the beginning of Radiant Woman online, but pay attention to my communications and to social media because I will be telling you when you can sign up for the course and I will also be offering a free webinar in April where I will share important information regarding how the course and the platform work.
I feel so happy and grateful to see how something incredibly beautiful becomes a reality…
Peace, love & flowers