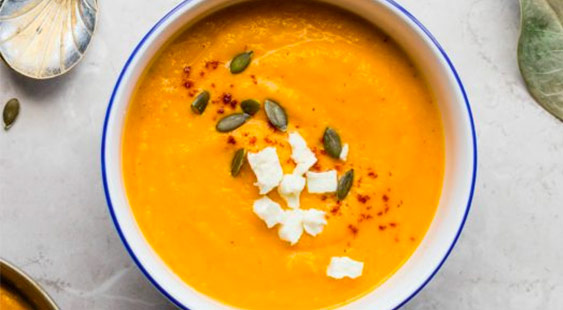 Readers, we are still in the coldest time of the year, perfect for broths, homey stews and my dear "Winter blends", warm, creamy and full of nutritious power. Down below you will find what they are, the magic formula to prepare them and my favorite combinations for this 2019 season. Mmm, they warm up the heart as much as your belly…

"Blend" means mix, combination or fusion and this is the way I like to call my creamy soups. They are like a Winter smoothie and especially beneficial when your constitution only tolerates raw or cold stuff during the hottest months of the year.
3 reasons why I encourage you to join the "blends" movement:
They are super simple to make, even if you think that you are terrible in the kitchen, they will come out delicious. Boil lovingly, blend with the hand blender and enjoy!
Cook once and eat two days. You can prepare double amount, keep it in the fridge and take it to the office in a thermos.
Healthy, vital, easy to digest and full of nutritious power. Great for after your yoga practice or meditation.
The basic formula:
1 big leek or 1/2 white onion, chopped
1/2 kg. vegetables in three centimeter pieces
4 Cups of liquid (broth or veggie "mylk")
salt, spices
olive or coconut oil
In a big pot sauté the leek or onion in the oil until golden and not burned. Add the rest of the vegetables, the broth, salt and spices. Allow it to gently boil for 20 min. Blend with the hand mixer.
These amounts nourish four people.
My favorite 2019 combinations:
leek + carrot & pumpkin + 3 cups vegetable broth + 1 cup whole coconut milk + salt and a pinch of cayenne.
leek + broccoli (boil only 5 minutes)+ 1/4 cup cashews + 4 cups vegetable broth + salt and a pinch of black pepper + nutritional yeast and fresh mint before serving.
onion + yellow or red lentils (washed and soaked) + salt + mix of Indian spices (ginger, turmeric, cumin, cardamom, cinnamon) sautéed in coconut oil. This "blend" needs a little bit more time for cooking, between 30 and 40 minutes.
Mmmmm they warm up the heart as much as the belly…
Peace and love among the pots