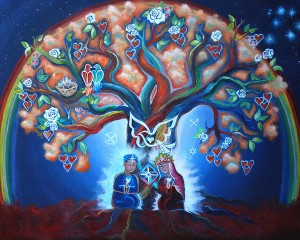 A
n interesting popular saying states that in life you must have a child, write a book and plant a tree. I still have to do the third, and what I would like to plant is a tree of love. Honoring Valentine´s Day, this post offers a ritual for couples.

The marriage of trees is a custom in some parts of India. The woman ties the stem from a sacred tree of Shakti (feminine principle) to the trunk of a sacred Shiva tree (masculine principle). With time the trees come together and start growing within each other. Under this unified tree people place sacred objects representing two intertwined snakes, similar to the greek caduceus. It is said to be a fertility rite, but it holds the deeper intention of unifying woman and man in a relationship of perfect balance and dynamism. (I will be teaching more about love and relationships on February 22nd, check out the events below)
A tree of love is planted first within your heart. It is strong and stable, child of Mother Earth like you or I. From its top you have a broader and higher vision on life. It is a lovely expression of existence that shelters you under its shade and nurtures you with its fruits. From it come the desire for friendship, cooperation, respect and delight.
If you have a partner, maybe today you could plant a tree like this together and do a ritual every time that you visit it. If you walk alone these days, keep this idea. The truth is that, with or without a partner, we can honor the awakening of the laws of the authentic sacred partnership within. It is a great celebration when we experience it outside as well!
Shakti-Shiva, Radhe-Krishna, Sita-Ram
Happy red hearts day…
Coming up
Workshop
Bhakti yoga: the power of love →
Pure devotion to life, relationships and spiritual partnership
Saturday, february 22nd · 10-12h
[space height="40″]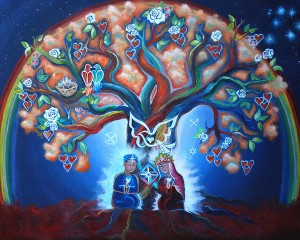 U
n dicho curioso dice que en la vida hay que tener un hijo, escribir un libro y plantar un árbol. A mí me falta la tercera y el que a mí me gustaría plantar sería un árbol de amor. En honor a San Valentín este post te ofrece un ritual muy hermoso para la pareja.
El matrimonio de árboles es costumbre en algunas partes de India. La mujer ata el tallo de un árbol sagrado de Shakti (el principio femenino) al tronco de un árbol sagrado de Shiva (el principio masculino). Al cabo del tiempo los árboles se unen y empiezan a crecer el uno en el otro. Bajo este árbol unificado se suelen colocar objetos sagrados representando a dos serpientes entrelazadas, parecido al caduceo griego. Se dice que se trata de un rito de fertilidad, pero encierra en sí la intención más profunda de unificar a mujer y hombre en una relación de perfecto dinamismo y equilibrio. (El 22 de febrero enseñaré más cosas sobre el amor y las relaciones. Échale un ojo a los eventos de abajo)
Un árbol de amor se planta primero en el corazón. Es fuerte y estable, hijo de la Madre Tierra, como tú y como yo. Desde su copa tienes una visión más amplia y elevada de la vida. Es una expresión muy hermosa de la existencia que te acoge con su sombra y te nutre con sus frutos. De él surgen el deseo de la amistad, la cooperación, el respeto y el deleite.
Si tienes pareja, quizá hoy podríais plantar un bonito árbol juntos y hacer un ritual cada vez que lo visitáis. Y si caminas solo/a estos días, recoge esta idea y guárdala. La verdad es que, emparejados o no, podemos celebrar el despertar de las leyes de la auténtica pareja sagrada en el interior. ¡Es toda una celebración cuando también se vive en el exterior!
Shakti-Shiva, Radhe-Krishna, Sita-Ram
Feliz día de los corazones rojos…
próximamente
Taller
Bhakti Yoga: el poder del amor →
Pura devoción hacia la vida, las relaciones y la espiritualidad en la pareja.
Sábado 22 de febrero · 10-12